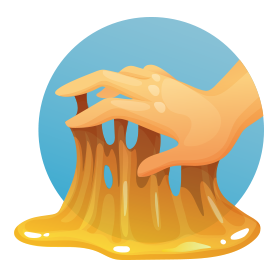 STICKY SUGAR
How to prevent sticky sugar
Why sticky sugar happens
What to do with sticky sugar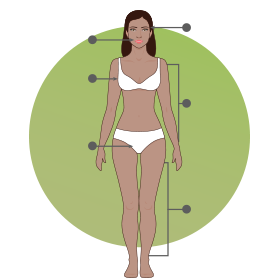 SPECIFIC AREAS
Instructions for sugaring each area
Which sugar to use
Tips & Tricks for specific areas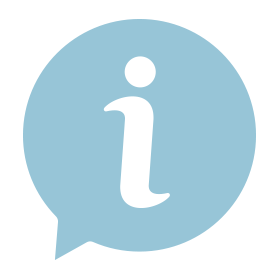 GENERAL QUESTIONS
General questions about sugaring
Tips and Tricks
Cautions when sugaring
✔   Let jar sit upright at room temp. (72-75℉)  for 8-12 hours.

✔   Watch the How-To video

✔   Trim: To reduce tugging, hair length should be 1/4"-1/2".

✔   Air: Avoid steamy bathrooms, turn on the A/C, use a fan, and don't use in direct sunlight or under a heat lamp.
✔   Skin: Clean, dry, & cool. No lotion, sunscreen, deodorant, or sweat. If showering, ensure skin is cool & dry.
✔   Start with the Practice Patch

SCOOP
A.  Hold Flicker (applicator) long ways with the fingers on top and the thumb underneath. Make sure fingertips are on the narrow edge of the flicker, not in the center. 
B.  Scoop marble size piece of sugar for practice.
C.  Press and hold sugar on skin for 10-15 seconds (when starting new piece of sugar)
TIP: Sugar straight out of the jar should be quite firm. Expect to dig in . Don't start if it's too soft. The Sugar loosens as it's used. 
APPLY
A.  Pull skin tight
B.  Check you are holding the flicker correctly with the fingers at the narrow end of the flicker and the thumb underneath.
C.  Slowly apply or spread the sugar against the direction of hair growth 2 times (opposite of waxing), lifting after each spread. Spread a third time ending just past the previous 2 spreads. 
TIP: Don't rub the sugar back and forth continuously when applying and preparing to flick. DO remember to pick up your flicker with each spreading stroke and begin again at the original starting point.
REMOVE
A.  After the third spread, quickly pull applicator (flick) in the direction of hair growth.
B.  Don't hesitate, flick fast and parallel, keeping the sugar close to the skin, like quickly ripping off a Band-Aid. 
C.  Reapply using the same piece of Sugar.
D.  When completely done with your session, our unique Flicker applicators are reusable and easily washed clean with warm water, dried, and stored for your next sugaring session. 
TIP: If sugar gets too gooey or difficult, get a new piece. (Spread over top of old piece to remove and keep going).