BE COMFORTABLE IN YOUR OWN SKIN
Your
Spa-Quality

Solution to be

Forever Smooth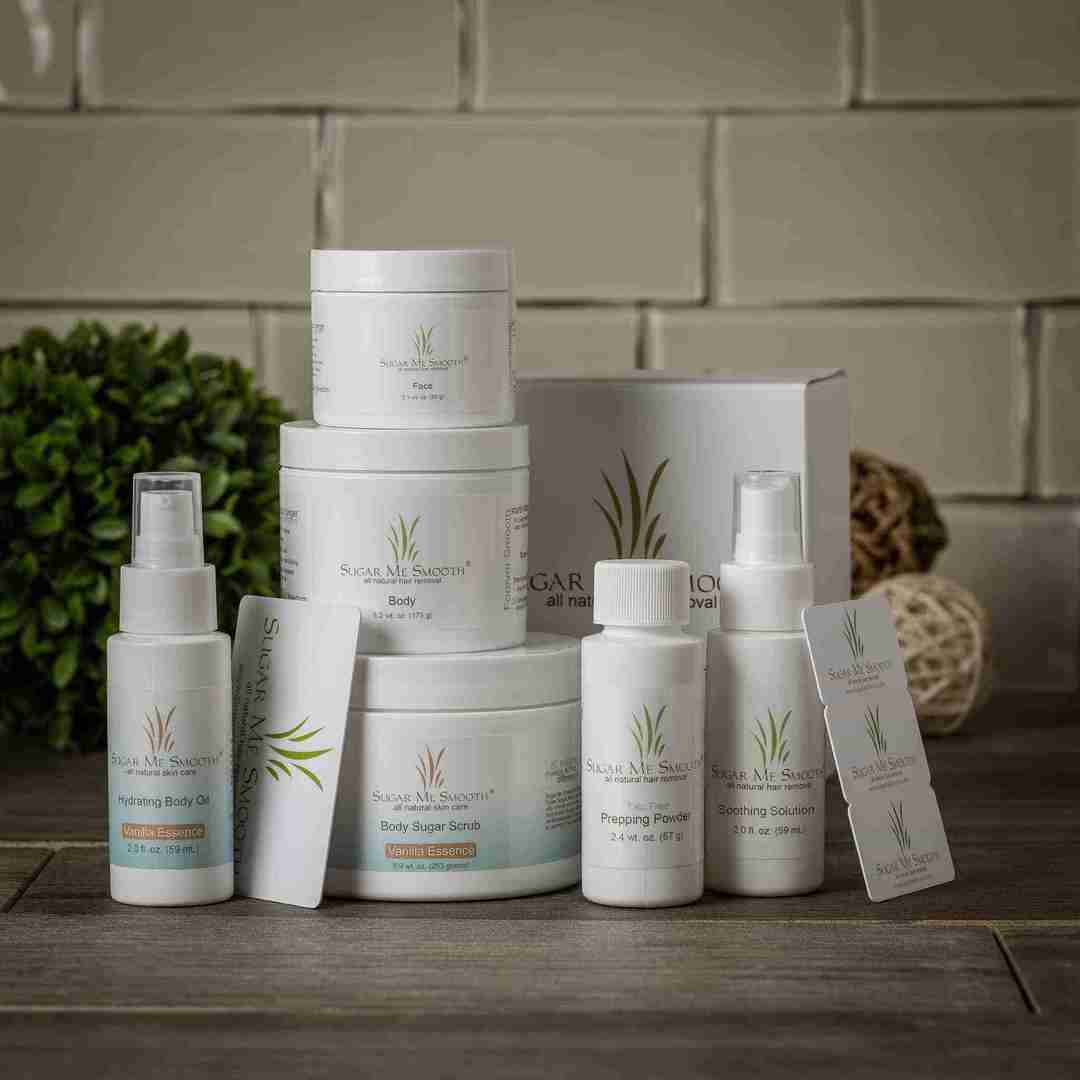 Ultimate Hair Removal System by Sugar Me Smooth
Enjoy the benefits of at-home 100% all natural sugar hair removal.  Remove hair by the root while exfoliating and hydrating your skin! Most of our customers even say it's less painful than waxing, especially after the first time! Keep your skin soft and smooth between sugaring sessions with an all natural body scrub (2x-3x weekly) and daily moisturizing  with our body oil loaded with Vitamin E  (your skin will glow all day!)  After 4-8 weeks of hair free skin, sugar again and this regimen will keep you FOREVER SMOOTH.  
Shop with us today and receive an Exclusive Deal and a 30 day Satisfaction Guarantee!  But don't wait too long.  The deal for extra savings will expire.  
⭐⭐⭐⭐⭐
"I'm highly impressed with this product. I loathe shaving, often going WEEKS without. When I received this product my leg hair was 3/4" long, seriously. I watched the how-to video, and within minutes I was a flicking pro. An hour later I was hair-free, and delighting in the feel and aroma of the soothing serum as I rubbed it on my silky smooth skin. I will definitely be back for more."

-Arwen M.
Sugar Me Smooth's Commitment
Where Smooth Skin Begins!
Sugar Me Smooth's at-home flicking method and secret recipe eliminates the need for constant shaving and is easier and less painful than waxing.  It's water soluble for easy clean-up, works on every-body, and doesn't require messy strips or heating.  And it's 100% all natural, specially formulated with sugar, lemons, and water - really that's it.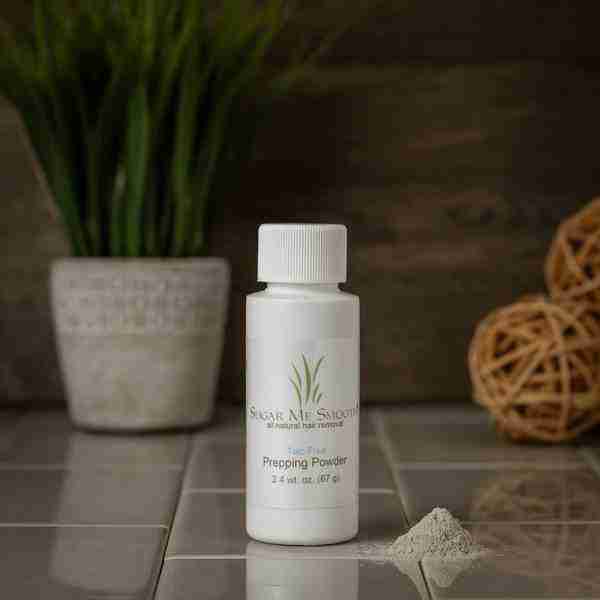 Prepping Powder: 100% All-Natural Prepping Powder is made of talc-free bentonite clay to absorb excess oils on the skin for optimal sugaring. This fine powder allows the Sugar to fully adhere to the hair and is safe for all skin types. Prepping Powder also helps reduce discomfort when using Sugar Me Smooth Sugar. 

Ingredients: Bentonite Clay, 2 fl oz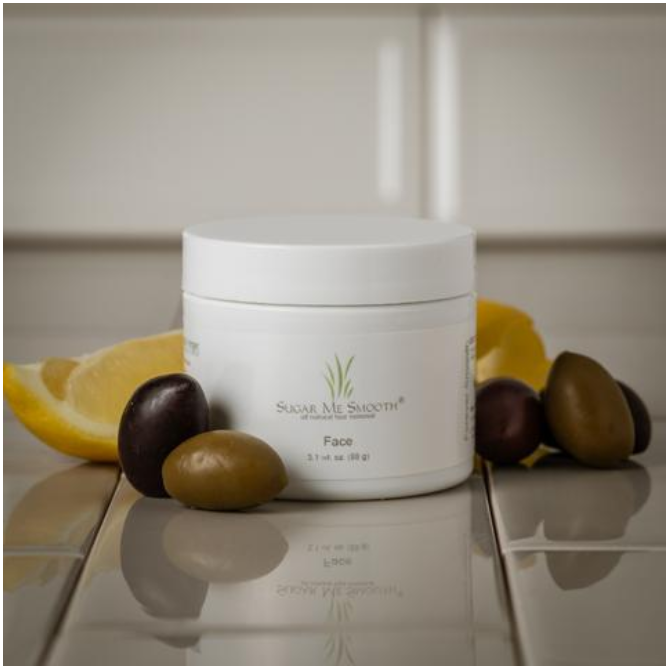 Face Hair Removal Sugar: Remove unwanted hairs in sensitive areas such as the upper lip, eyebrows, cheek, neck, and nose, as well as the bikini area or Brazilian. Licorice Root is added to our already unique formula, reducing redness and irritation after sugaring. Small flickers are also included to reach those tough spots. 

Ingredients: Sucrose, Fructose, Water, Lemon Juice, Olive Oil & Licorice Root, 3.1 wt. oz.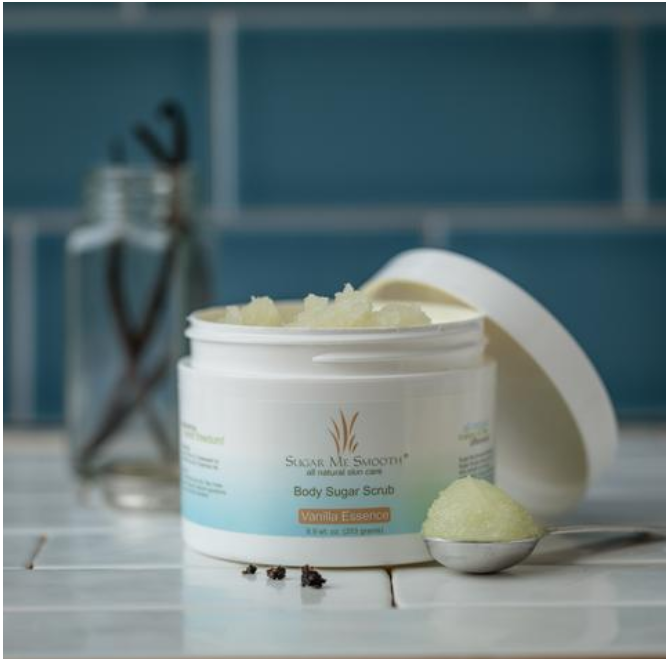 Body Sugar Scrub: Body Sugar Scrubs gently exfoliate the skin, only removing dead skin cells, and are never diluted for the finest skincare. Sugar Scrubs exfoliate your skin, leaving it silky smooth and deeply moisturized.

Ingredients: Sugar, Olive Oil, Grapeseed Oil, Sweet Almond Oil, & Essential and All Natural Oil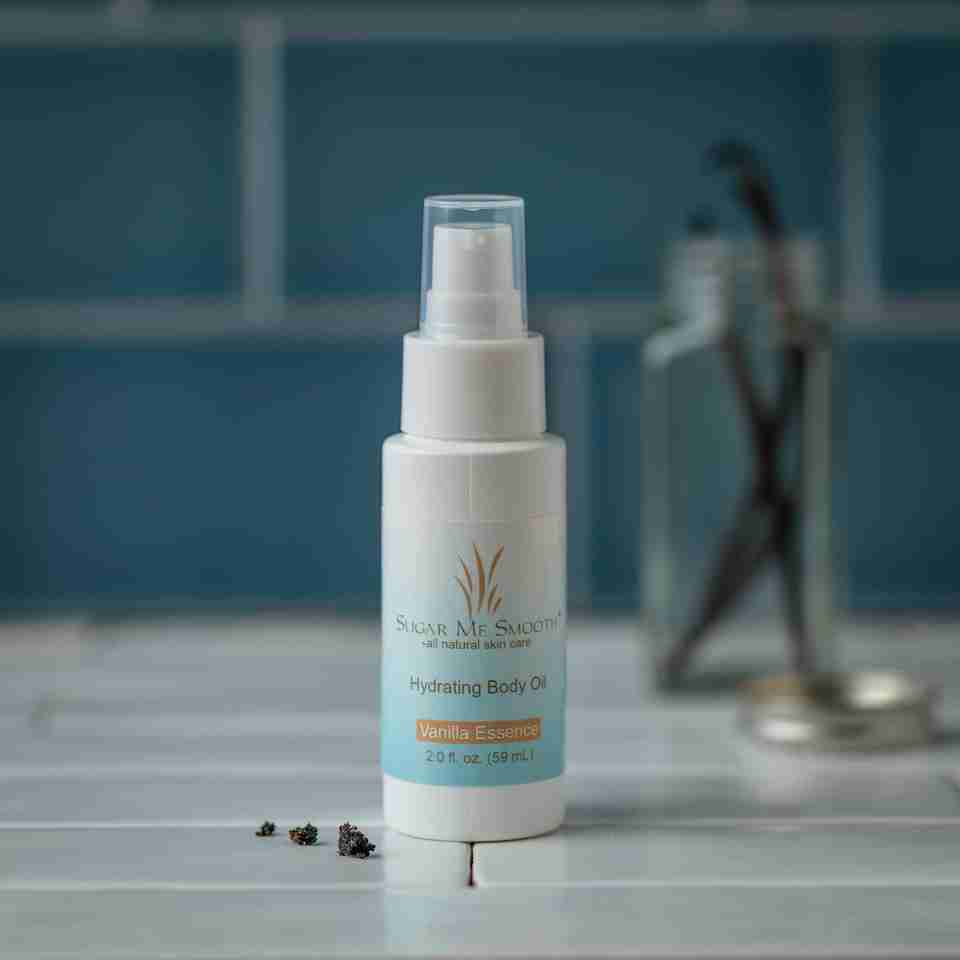 Hydrating Body Oil: Hydrating Body Oils restore nutrients and moisture back to the skin both after sugaring and for the maintenance of flaky, dry skin. Your skin will glow for hours as our skin care products are never diluted for the finest skincare.

Ingredients: Aloe Vera Oil, Vitamin E, & Essential and All Natural Oil, 2 fl. oz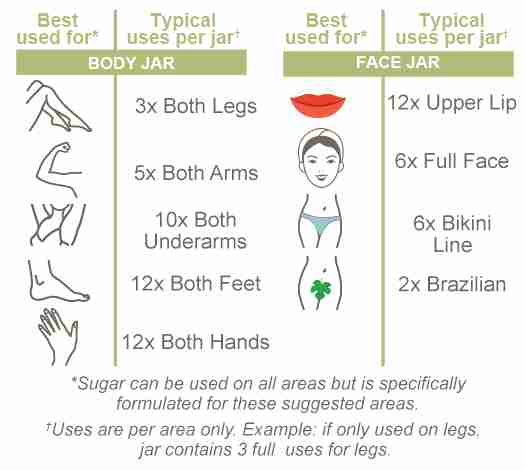 Sugar Me Smooth will last multiple hair removal sessions, because the same piece of sugar can be re-spread multiple times to remove hair! Our unique applicator also allows you to achieve far more skin cover than traditional at-home methods, and when compared to the cost of going to the salon, is extremely cost effective AND saves time!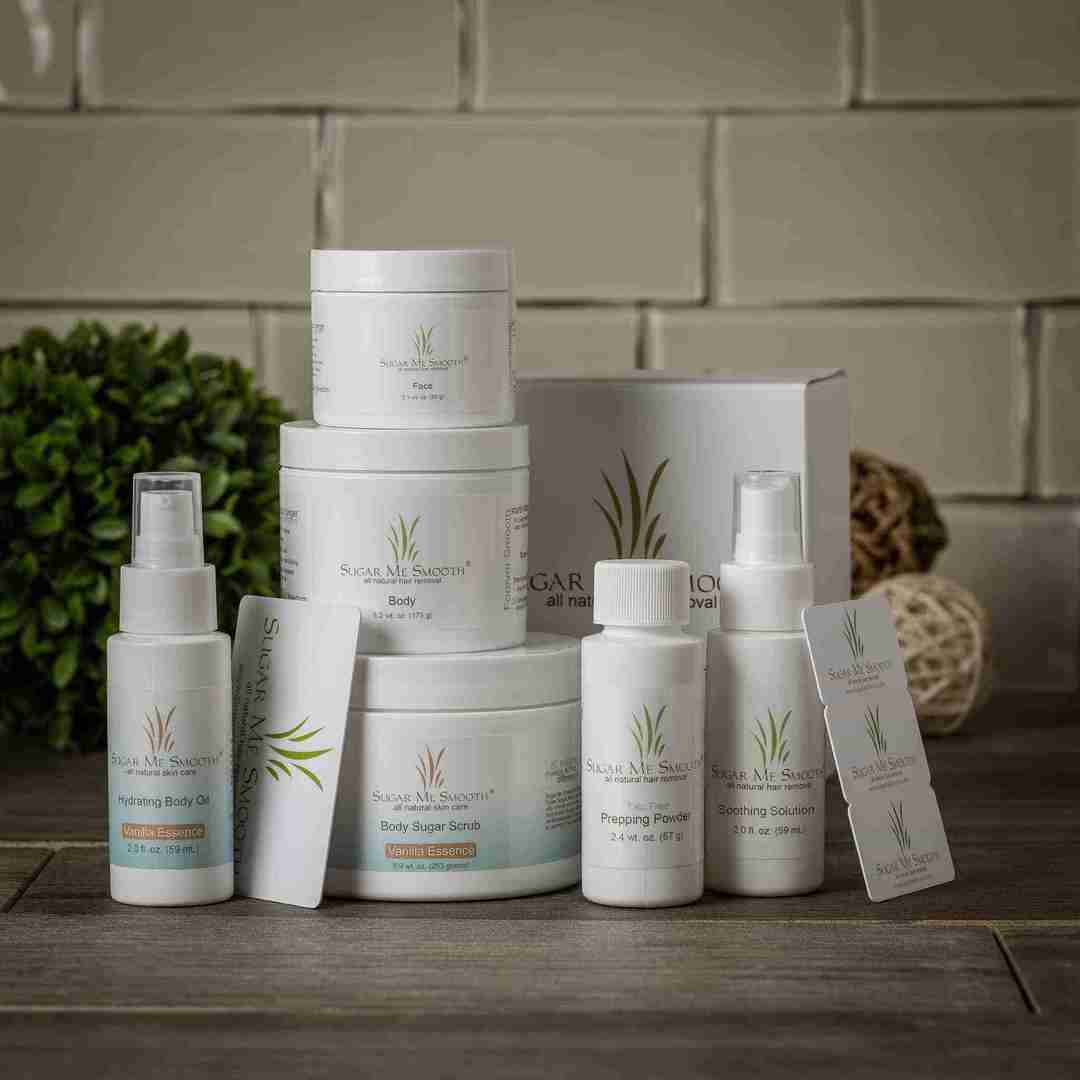 Ultimate Hair Removal System
With the Ultimate Hair Removal System, enjoy the benefits of 100% all natural Hair Removal Sugar that gets rid of hair, exfoliates, and hydrates your skin! You will be FOREVER SMOOTH. Your skin will thank you!
Shop with us today and receive an Exclusive Deal!
30 Day Satisfaction Guarantee!

⭐⭐⭐⭐⭐

"I love this sugar wax. I have sensitive skin and this wax is amazing for very fine, and very course hair (facial AND bikini areas) it takes awhile to get the hang of application process but once mastered, it removes literally every hair. This wax binds to the hair, not the skin, leaving the skin less irritated then traditional wax. I will forever 
use sugar wax!!"
⭐⭐⭐⭐⭐
"I love this stuff! The prepping powder is a must on underarms and I like to use it all over my body (not my face). The sugar works great! I use it on my face and body. I love the soothing oil on my legs and arms when I'm all done. It all makes my skin feel amazingly smooth and soft!!! Also feel that my skin is glowing! No more hair for me - will d
efinitely be buying again."
When first learning our at-home Flicking method, it might take 2-3 sugaring sessions to master the technique.  However, once learned, we promise you'll  never go back!  To assist you and get you easily on your way, each product includes a Quick-Start Guide and Video Tutorial with step by step instructions that helps make flicking easy.  
We've got your back! Money that is. Our sugar paste will get the back hair.
If you are not 100% satisfied with your purchase we will help arrange an easy return. All gently used products are eligible for a full refund. Pretty much "Unheard Of" in the Beauty Industry.
Waiting too long for a product can get prickly!
Can't wait any longer to get that hair out? We get it...Hair Free = Care Free. So all orders processed by 4 pm EST. are shipped same day so you can get your product fast because smooth skin shouldn't wait.
Sugaring not for you? Let's not fight about it!
Simply email help@SugarMeSmooth.com within 30 days of getting your product & let us know. Within one business day we will provide our Utah address. Just pay Return Shipping and we will process your refund once we receive your return.
Here's the deal.

  Even though we don't want the hair to grow back, we want you to come back when it eventually does.  Plus our bath & body products are amazing too and make great gifts (even for hairy people). 
We are so confident you will learn and love Sugar Me Smooth that we are willing to give a big discount now to secure your smooth skin for a lifetime.  This is a limited time special offer that we have never allowed before.  Buy one Ultimate System at an extra 10% off (25% off total); or for an even better deal you can buy two, and the second Ultimate System is 40% off..   
Why buy two? At first it surprised us when so many orders would have 2-3 systems per order.  Then we read the comments on our ads and realized Monica and Phoebe aren't the only friends who try waxing together.